Professors Phone:267 3552132 Email-lunguliz@gmail.com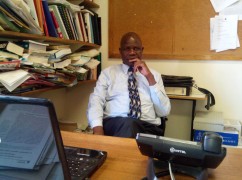 An Applied Mathematics professor at the University of Botswana for over 20 years, Dr Edward M Lungu has numerous publications and awards to his name including the prestigious CIAM Su Buchin Prize in 2011.
The  CIAM Su Buchin Prize in 2011 prize was awarded to Dr Lungu for his fundamental contribution to developing teaching, research and organi-zational structures for applied mathematics in Southern Africa. The Su Buchin Prize was established to provide international recognition of an outstanding contribution by an individual in the application of mathematics to emerging economies and human development, in particular at the economic and cultural level in developing countries.