Welcome

to RGSMA
Is a regional mathematics project supported by Simons Foundation. The project is designed to nurture and accelerate high-level mathematics research in Sub-Saharan Africa. Sub-Saharan Africa is the focus because the region is home to pockets of strong mathematics researchers who lack resources and could potentially benefit greatly from long-term investments in research and infrastructure.
Read more
News and Events
The Simons Foundation through the Research and Graduate studies in...

The SAMSA-MASAMU Annual conference took place in Pretoria, South Africa at...

The 2016 AMMSI-Phillip Griffiths Prize awarded to Professor Edward M....
Lead Researcher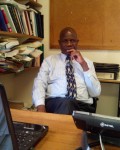 An Applied Mathematics professor at the University of Botswana for over 20 years, Dr Edward M Lungu has numerous publications and awards to his na...
Read more